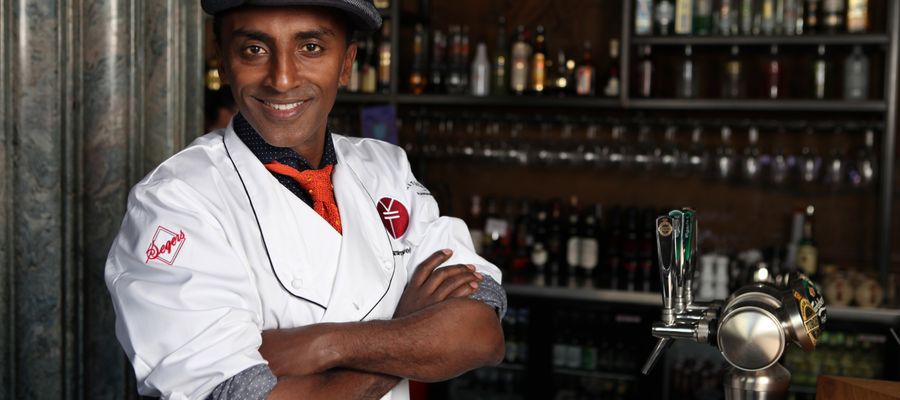 Success is not a bus stop
Marcus Samuelsson is a world-renowned chef whose career has taken him all around the world and even to the White House kitchen. We had a chance to talk with him just before the opening party of Clarion Hotel Helsinki and Clarion Hotel Helsinki Airport to ask what inspires him?
- I´ve always been passionate about what I do. I´ve only worked for one thing in my life – food, and it has taken me around the world. From sitting here, all the way to the White House. My motto is that if you give a lot, you receive a lot. I think it´s great when I meet young staff members with the same glow in their eyes, which I can relate to. It´s not a foreign thought, cause I think I´m even more inspired today than I was in the early years of my career.
Roots matter
Marcus says he feels like he´s been cooking all of his life. - Growing up, my sisters Anna, Linda, and I spent summers in Smögen, on the west coast of Sweden. Every morning I went fishing with my dad, Lennart, and my uncles. We caught crayfish, lobsters, and mackerel, and often smoked and preserved the catch. My grandmother, Helga, would gather us in the kitchen to teach us how to pickle fresh vegetables, and make meatballs, ginger snaps, cookies, and apple jam. These experiences taught me to love and appreciate fresh, local food.
Marcus' other culinary influence comes from his Ethiopian roots. - Spices are the key element in Ethiopian cooking. I think about spices differently; they´re not just something you throw in, they have more meaning. I appreciate my Ethiopian roots because I see how hard people work there to survive and I am inspired by the way the people of Ethiopia lead their lives, and how everyone tries to help one another in their communities. Their drive inspires me to work as hard as I can to take the knowledge I have about food and share it with those who want to learn.
New York City - a cradle for diversity
New York City also has a special meaning for Marcus as he´s been living there for the past 20 years. - New York City means diversity. I love meeting new people and learning about different cultures because it helps me expand my knowledge of different foods, spices and techniques. Different sounds and colours influence the way I design a dish.
Kitchen & Table – an extension of the living room
As we speak, we sit in the Clarion Hotel Helsinki Airport's Kitchen & Table, Marcus Samuelsson signature restaurant - where the menu embodies a 'Manhattan meets local ingredients and Fun Dining; but what does that mean in practise? - I like the casualness of American dining. When I think about American food and restaurants, it´s not stiff but very casual. It means you can arrive in jeans and just as you are. That´s the kind of atmosphere we want to create here.
According to Marcus, the concept also embodies the evolution of the restaurant business. - If you think about the last 30 years, most restaurants were French. When I grew up, you probably went to a restaurant a couple of times a year. Obviously, with internet and travelling it has become more accepted, even weekly. Then; if you think about the hurdle of going to a restaurant, we want to lower that. It means that if you meet a friend spontaneously, you can just pop into Kitchen & Table, have a drink, hang out, get a coffee, and enjoy an appetizer or a whole meal. It´s all about a more social way of being and this is what Fun Dining is all about.
Marcus says the main thing is that you don´t have to make a reservation, you can enjoy your meal in a cosy environment, which is reminiscent of a neighbourhood restaurant. - What the common thread is for these restaurants, is that they all have an open kitchen. I don´t want to create a closed environment, where you cook behind closed doors. I also want to create an environment where women can feel comfortable dining alone. This is why we have high-top tables that are part of the bar environment. Therefore, this is an environment, which is actually a living room away from home.
The opportunity to give back
Marcus values the opportunity to give back the things he received during the early years of his career. - I was once a person who did not necessarily know what I wanted. I knew I wanted to travel, but not how to combine it with work. I was lucky to have someone to mentor me. After studying at the Culinary Institute in Gothenburg, Sweden, I apprenticed in Switzerland to expand my culinary knowledge, which changed my life. When you work in the hospitality industry, it becomes your second family and I feel like I´ve been invited into the global hospitality family, which was a turning point in my life. Through Kitchen & Table, we want to offer young people the opportunities to work abroad, which is a great way to be able to give back what I´ve experienced.
It is all about guidance and hard work
When asked about a star moment from his career, Marcus responds: - I started my career with the hope of being able to work with creative people and do what I love. I still don´t take that for granted. Of course, there are many unbelievable experiences that have happened along the way, but not one of them is really a reflection of me – rather it's a reflection of the teamwork, guidance, hard work and determination involved. For me, success is not a bus stop but rather a great opportunity to learn - for the love of food.
Learn more about Marcus Samuelsson at marcussamuelsson.com
Going to New York? Have a taste at the Marcus Samuelsson Red Rooster restaurant in Harlem!
"My hope is that Red Rooster will build on Harlem's rich culinary culture, and that people from all over the world will be able to celebrate all that Harlem has to offer. I'm looking forward to this new adventure. Harlem has a rich community in terms of music and culture. It´s an iconic American neighbourhood with art, writers, musicians and food. At its core is music, food and creative people, and my restaurant, Red Rooster, is the center of that. We have a lot of music in our restaurant, as well as community events. I feel very lucky that we can live there".
Text and restaurant photo: Mia Heiskanen
Aiheeseen liittyvää